Make your first robot! Hands on building sparks the imagination!
As children use their own ideas to create, they engage in a self-directed learning process. With our materials, students will have to use their own imagination and creativity, acquiring science, technology, engineering, and math (STEM) experience in the process.
What's Robot Class?
The robot building process accomplishes goals without 'one correct answer.'
If you just follow the directions, then you will quickly finish, but this is not what our program does. We add our own ideas and develop a deeper understanding of robot building through trial and error. There is no correct answer to what the students are trying to achieve. The goal is to "make a more interesting robot," and problem solving skills and individuality will be invoked to reach this goal.
Curiosity fuels creativity
When students focus on their creation, they are constantly asking "How can this work?" This encourages an endless learning process. Since the students are invested in their own creation, they maintain a high level of motivation that stirs intellectual curiosity. It's easy to see how much fun it is for children to learn by themselves, thus pushing the limits to achieve goals, leading to a great sense of accomplishment.
Stimulating and extending imagination
In the kit, only a few dozen types of pieces and parts such as motors and gears are used. A robot full of originality with surprisingly elaborate movement and structure is born by the physical construction of an idea. The depth of the idea showcases one's creativity. To maintain motivation, there will usually be a next level to progress to.
Our program fosters these abilities
Concentration
The robot in the robot class is assembled from basic blocks similar to Lego. The act of thinking by trial and error while manipulating the pieces makes it easy to come up with ideas and acquire skills.
Spatial Recognition
In the process of combining the blocks and imagining how to put them together, three dimensional objects must be mapped out in the mind. Research shows that this ability is primarily cultivated during childhood.
Creativity
We are using these blocks to create. The students themselves love expressing their imagination using these pieces and will always be thinking of new and better ways to do things.
Mechanical Aptitude
We can learn science knowledge such as "gear and motor" mechanism, and "science principle" and "friction power" through robots you want to make. Learn scientific principles such as transference of motion through gears and motors by construction of your robot.
Course List
Primary Course
Age:5-6 years old
Duration:1 year
The materials for this course teach mainly using pictures and diagrams, and the progression of the lesson is intuitive. We will memorize part names, become familiar with different sizes, and cultivate an ability to read letters and numbers.
Basic Course
Elementary School Students
Duration:1 year 6 months
Using an illustrated manual for reference, we will produce various robots using the same parts bin, whilst studying structure and movement. We will obtain a deeper understanding by working on assigned questions and formulas. Students will experiment with their own robot designs, noting successes and failures.
Middle Course
Elementary School Students
Duration:1 year 6 months
We will begin making robots with more complicated structures and complex movements. Pictorial guidance will be reduced, relying more on the power of observation and spatial ability. More questions and discussions will be encouraged, and the students must explain their ideas in a logical manner.
Advanced Course
This course introduces the students to a process of robot making that doesn't detail the assembly procedure, but rather tasks the student with building a robot that functions or looks a certain way. Autonomous robots that can move on their own using optical and auditory sensors will be introduced. The goals for the classes will advance, and the group will discuss ways to achieve the desired outcome.
Typical Lesson Plan
Basically, the robot class program creates one robot in classes twice a month (once for 90 minutes). For children, you can do it in parallel with other lessons without difficulty.
The program will usually instruct the students how to make one robot per month in two classes, 90 minutes each. It's easy to integrate this class into your existing extracurricular activities.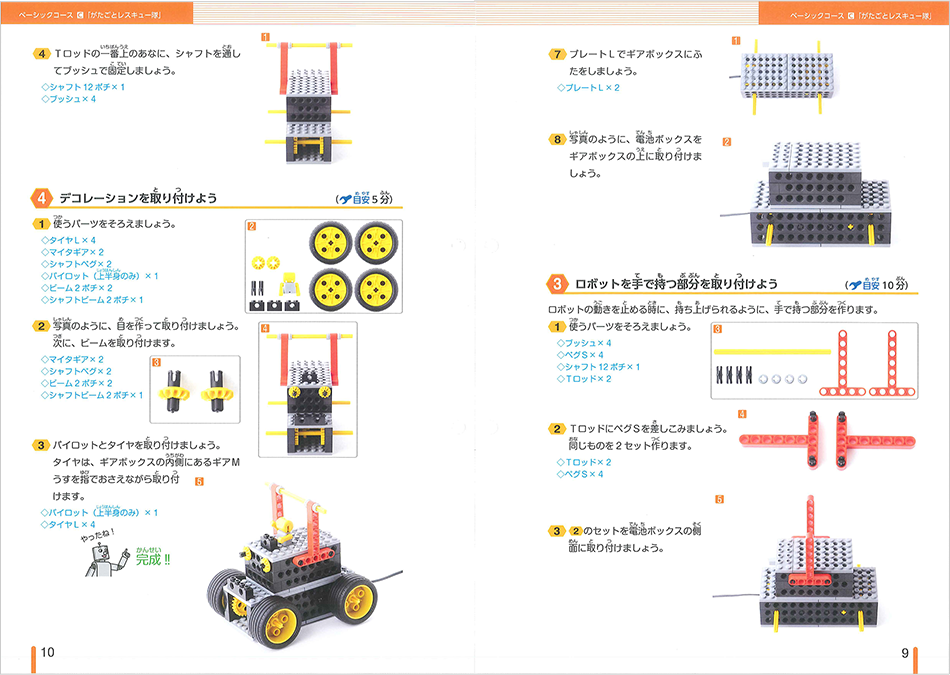 First Week (Building)
Using the guidance of the class materials, the students will be able to assemble their robots in a supervised environment. Through trial and error, the students will gain great satisfaction seeing their creations come to life, cultivating a natural appreciation for science and mathematics.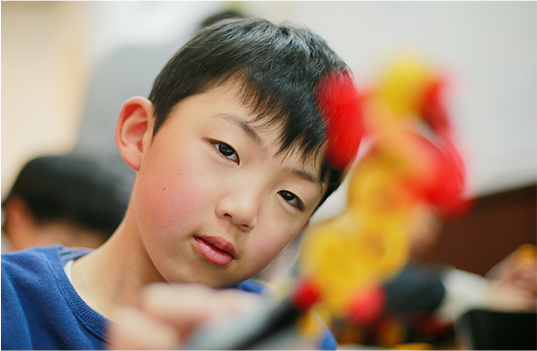 Second Week (Operation)
How can the robot be produced more rapidly? How it be made stronger? We will answer these questions as we study the power mechanisms, and concepts such as leverage and friction as we test and apply what we've learned through games and friendly competition with our robots.
Material Expenses and Tuition
ADMISSION FEE
10,000Yen (Pay only once)
EQUIPMENT COST
28,500Yen (Pay only once)
TUITION FEE
9,500Yen per 1 month
Consumption tax will be added separately to the above price. Monthly lesson fee can be paid by PayPal.
Come join us and try building a robot yourself!
Free Trial Lesson
This month we will offer free trial lessons with the following schedule. Those who wish to apply please fill out the necessary items and submit. We will close it as soon as it becomes capacity.
Capacity
6 students per each class
Location
Churakids Awase
2-14-2, Kaiho, Okinawa-shi (Map)
Tel: 098.989.5024

Churakids Nago
487, Miyazato, Nago-shi (Map)
Tel: 098.989.5024
Photo Gallery